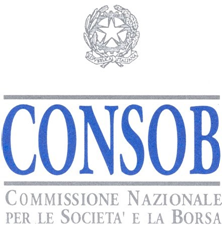 AVVERTENZA – SITO NON RAGGIUNGIBILE
La CONSOB ha accertato che mediante il sito richiesto vengono offerti o svolti servizi o attività di investimento nei confronti del pubblico italiano in assenza delle prescritte autorizzazioni o offerti al pubblico prodotti finanziari e/o pubblicizzata l'offerta di prodotti finanziari nei confronti del pubblico italiano in assenza del prospetto informativo.
Il sito richiesto è stato pertanto reso irraggiungibile in linea con quanto previsto dall'art. 36, comma 2-terdecies, Legge 28 giugno 2019, n. 58 e dall'art. 4, comma 3 - bis, L. 28 febbraio 2020, n. 8.
WARNING –THIS WEBSITE CANNOT BE REACHED
CONSOB has ascertained that, through the searched website, investment services or activities are offered or carried out towards the Italian public without the requested authorizations or financial products are offered to the Italian public and/or the offering of financial products is advertised without the prospectus.
The searched website has therefore been made unavailable in accordance with the provisions of Art. 36, parag. 2-terdecies of the Italian Law no. 58 of June 28, 2019 and Art. 4, para 3 - bis, of the Italian Law no. 8 of February 28, 2020.